World Cup 2023 Semi Final 2 Predictions : South Africa vs Australia, Battle For A Spot In The Final Showdown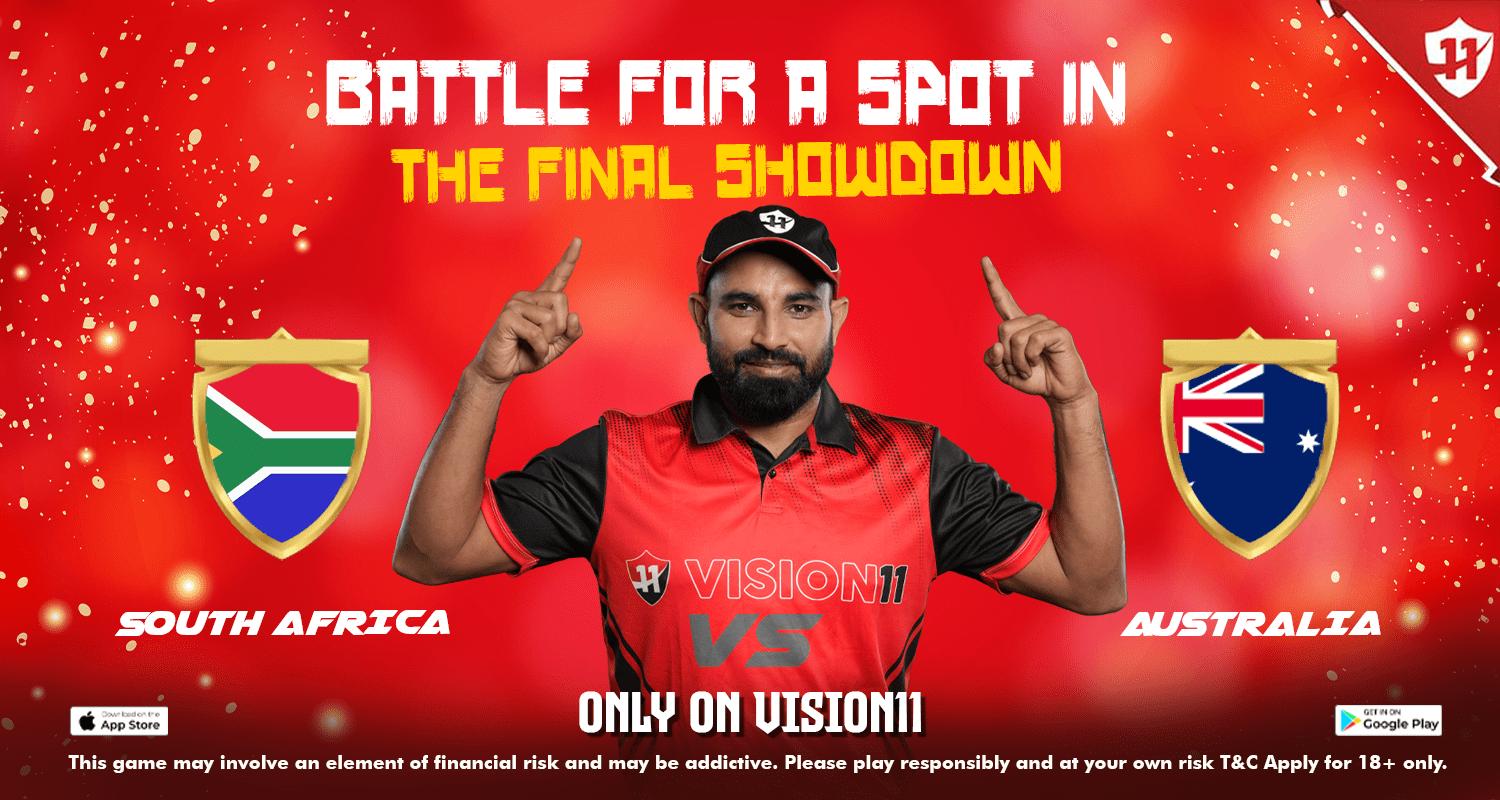 As the ICC Cricket World Cup 2023 group stage draws to a close, the top 3 spots in the semifinals have already been reserved. With their perfect record in the competition, India became the 1st team to qualify. After them, South Africa emerged as the 2nd team. Glenn Maxwell, who has led Australia to the semi-finals at the Wankhede Stadium in Mumbai with an amazing century against Afghanistan.
There's still one more place to be taken. Afghanistan, Pakistan, and New Zealand are vying for that position. There is still one game left for these three teams. Anything is possible, even if New Zealand has a greater chance with a high NRR.
In their previous group stage match, South Africa defeated Australia by a margin of 134 runs. However, both teams' knockout records indicate that Australia has an advantage over every other opponent. We shall therefore be treated to a thrilling semi-final match between the two dominant teams, Australia vs. South Africa at Eden Gardens.
Australia vs South Africa World Cup 2023 Semi-Final Schedule
Date: November 16th, 2023
Day: Thursday
Venue: Eden Gardens, Kolkata
Time: 2:00 PM
Pitch Report Of Eden Gardens Stadium
The premier location for major cricket matches in India is the old Eden Gardens Cricket Stadium in Kolkata. Large fields, ideal batting conditions, and a sizable seating capacity are all aspects of Eden Gardens. In white-ball cricket, Kolkata's pitches are frequently helpful. But as long as they hit the proper distances, Kolkata's pitches will undoubtedly be of real help to bowlers. Taking everything into account, it makes sense to predict that most of the World Cup matches will be held in Eden Gardens will be high-scoring contests.
ODI Records at Eden Gardens Stadium
The Cricket matches played at Eden Gardens Stadium in One-Day Internationals (ODIs) have a fascinating past. The Indian cricket team has played in 22 One-Day Internationals (ODIs) on this sacred venue; they have won 13 and lost eight.Its history is marred by doubt because one of its matches ended in a draw.
Vision11 is the platform of choice for fantasy sports and cricket apps. It has established itself as one of the top fantasy sports app for cricket aficionados. Using Vision11, you may create the teams of your dreams for fantasy cricket app, select real players from upcoming matches, and earn points based on each player's performance.
Total matches: 33
Matches won batting first: 19
Matches won bowling first: 13
Australia vs South Africa World Cup 2023 Semi-Final Team Overview
Australia World Cup 2023 Team Overview
While the fantastic Australian team is primed to win the 2023 World Cup, cricket fans are more anticipating their exciting match. The Australian squad is gearing up to overcome Team South Africa, as all the preparations for the match have been done. Now both teams will stand against each other on November 16, 2023, in Kolkata to win the game.Their recent match Australia vs Afghanistan was a standout effort, as the Kangaroos managed to steal win from the jaws of defeat. Australia recovered from 91/7 to 293/7 in 46.5 overs.
Team Captain: Pat Cummins
Team Vice-Captain: Steve Smith
Head Coach: Andrew McDonald
South Africa World Cup 2023 Team Overview
In international cricket, South Africa has had a significant effect, although its grandeur from the World Cup has gone. In white-ball cricket, the South Africans have always been a formidable opponent due to their explosive batting and potent pace attack. They have the firepower to win with players like Quinton de Kock and Kagiso Rabada in their ranks. In his last South Africa vs Afghanistan Match, south africa got 244 runs to chase.
Team Captain: Temba Bavuma
Team Vice-Captain: Alden Markram
Head Coach: ARob Walte
ICC Cricket World Cup 2023 Semi-Final, Australia vs South Africa Predictions by Vision11
Pat Cummins (c), Steve Smith, Alex Carey, Cameron Green, Josh Hazlewood, Marnus Labuschagne, Mitch Marsh, Glenn Maxwell, David Warner, Adam Zampa, and Mitchell Starc
Quinton de Kock, Temba Bavuma, David Millar, Kagiso Rabada, Rassie van der Dassun, Heinrich Klassen, Alden Markram, Marco Jansen, Keshav Maharaj, Lungi Ngidi, and Gerald Coetzi
The Road to the Semi-Finals
Both South Africa and Australia have exhibited exemplary performances throughout the tournament, showcasing their prowess with the bat and ball. South Africa, led by their dynamic captain, Temba Bavuma, has shown resilience in the face of challenges. Their six victories in eight matches and stepping into the semifinals were a testament to their determination and skill.
On the other side, Australia, under the captaincy of the formidable Pat Cummins, has been a force to be reckoned with. Their dominant chase in the group stage and a convincing win against Afghanistan were exceptional. Making six victories in eight matches and stepping into the semifinals have cemented their status as serious contenders for the coveted World Cup trophy.
Head to Head Battle Between Australia vs South Africa
The history between South Africa and Australia in World Cup encounters is rich with memorable moments. From iconic performances to nail-biting finishes, these cricketing giants have delivered it all. As they prepare to face off once again in the semifinals, the cricketing world eagerly awaits another chapter in this storied rivalry.
Total Matches Played: 108
Matches Won Australia: 50
Matches Won South Africa: 54
Australia vs South Africa Team Tactics
Australia has a reputation for having a strong batting lineup. With middle-order batsmen who can accelerate and consolidate and openers who can produce explosive starts, the club places a strong emphasis on amassing large totals. . Australia also places a strong emphasis on fast and aggressive pace bowling. They have a history of turning forth elite fast bowlers with the bounce, pace, and accuracy to terrorize opposing batters.Australian teams are renowned for their exceptional fielding skills. They place a high value on quick catching, deft ground play, and straight-hit run-outs; their outstanding fielding frequently wins them close games.
South Africa Team Tactics
Generally, South Africa takes a balanced approach, emphasising both bowling and batting. They aim to post competitive totals and have a versatile bowling attack capable of taking wickets in all conditions. South Africa recognizes the importance of spin bowling in limited-overs cricket.They frequently have spinners who can dominate the middle overs and produce pivotal breakthroughs. Similar to Australia, South Africa values fielding highly. They can turn half-chances into wickets and put more pressure on the opponent since they are quick and athletic.
While predicting the outcome of a cricket match is always a challenge, one thing is certain: cricket fans are in for a treat. Both teams have the firepower to emerge victorious, and it could come down to which side handles the pressure better on the given day. Will South Africa's batting lineup shine, or will Australia's formidable bowling attack prove too much to handle? As the cricketing universe turns its attention to this blockbuster semi-final clash, fans can expect a rollercoaster of emotions, breathtaking moments, and perhaps a few unexpected twists. The battle between the Proteas and the Aussies promises to be a cricket spectacle that will be etched in the memories of fans for years to come.
Who are the key players to watch out for in Australia and South Africa?
David Warner, Glenn Maxwell, and Adam Zampa are the key players to watch out for the Australian team, and Quinton de Kock,Kagiso Rabada, and Rassie van der Dassun from the South African team are the key players to watch for the World Cup 2023 semi-final match.
Where will the match be held between Australia and South Africa for the 2023 World Cup semi-final?
At Eden Gardens, Kolkata, the match will be held between Australia and South Africa for the 2023 World Cup semi-final.
Name the playing 11 of the South African team for the 2023 World Cup semi-final.
Quinton de Kock, Temba Bavuma, David Millar, Kagiso Rabada, Rassie van der Dassun, Heinrich Klassen, Alden Markram, Marco Jansen, Keshav Maharaj, Lungi Ngidi, and Gerald Coetzi