World Cup 2023 Predictions Match 44: England vs Pakistan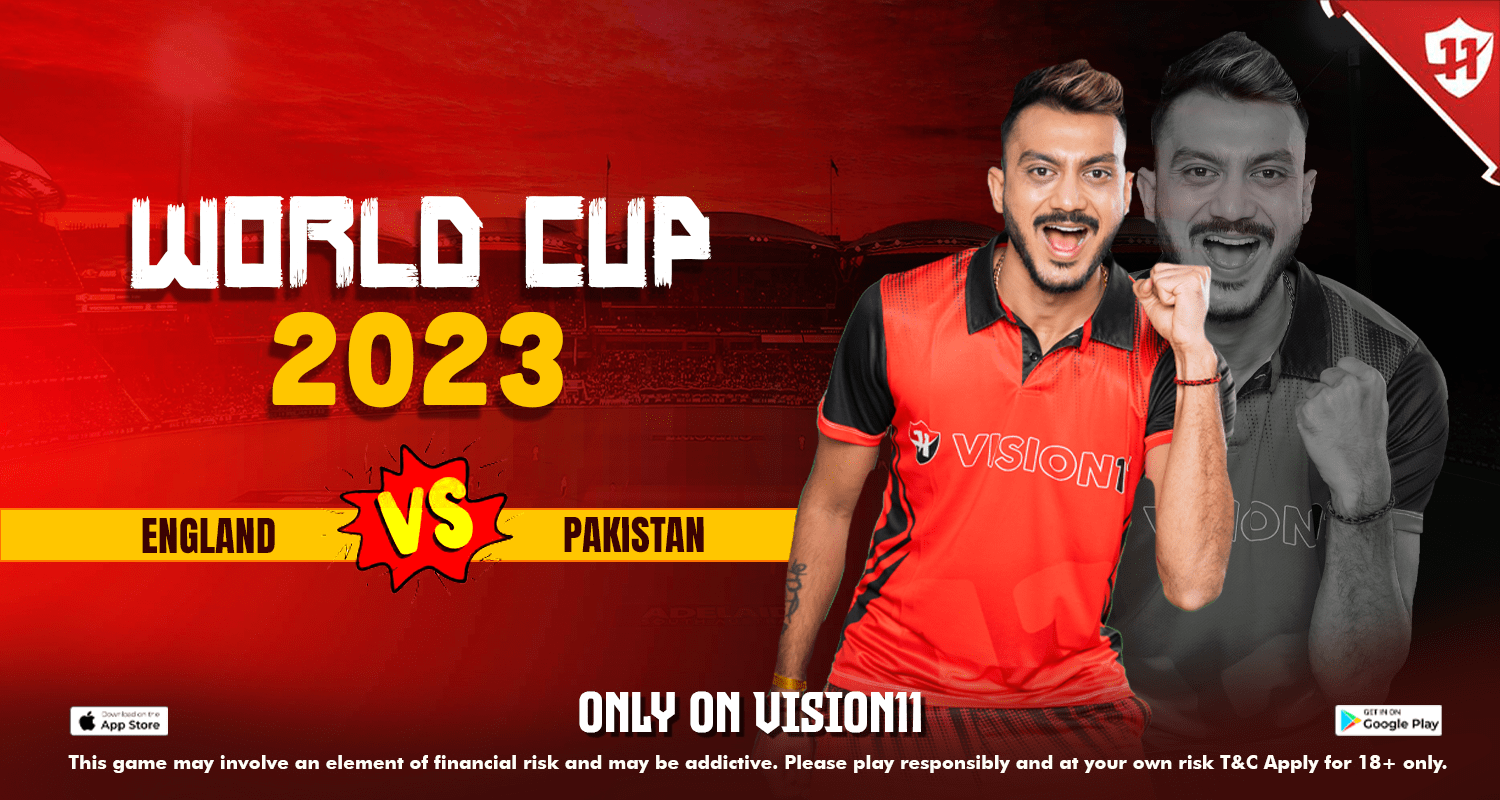 The
ICC Men's Cricket World Cup 2023
is a cricketing spectacle that brings together nations from around the world, each vying for supremacy. In this blog, we'll delve into the predictable strategies that the cricketing giants, England and Pakistan, might employ as they lock horns in a crucial World Cup encounter. England, known for their aggressive and dynamic style of play, will face Pakistan, a team with a rich history of unpredictability and brilliance. Let's explore the predictable strategies these two teams could use to secure victory in this high-stakes showdown at Eden Gardens, at November 11, 2:00 p.m.
England vs Pakistan World Cup 2023 Schedule
Date: November 11th, 2023
Day: Saturday
Venue: Eden Garden Stadium, Kolkata
Time: 2:00 PM
Pitch Report Of Eden Garden Stadium
The premier location for major cricket matches in India is the old Eden Gardens Cricket Stadium in Kolkata. Eden Gardens features enormous grounds, perfect batting conditions, and an enormous capacity for spectators. In white-ball cricket, Kolkata's pitches are frequently helpful. But as long as they hit the proper distances, Kolkata's pitches will undoubtedly be of real help to bowlers. All things considered, it's reasonable to assume that the majority of the World Cup games played at Eden Gardens will be high-scoring matches.
ODI Records at Eden Garden Stadium
One Day International (ODI) cricket matches at Eden Gardens Stadium have a remarkable history. In the 22 One-Day Internationals (ODIs) that the Indian cricket team has participated in on this hallowed ground, they have won 13 and lost eight. A draw occurred in one of its matches, so its history is tainted with uncertainty.
Total matches: 31
Matches won batting first: 18
Matches won bowling first: 12
Australia vs Bangladesh World Cup 2023 Team Overview
Australia World Cup 2023 Team Overview
In the ICC Cricket World Cup 2023, the "Three Lions" are primed to dominate thanks to their outstanding squad. The squad is playing well on the field, and we're hoping they'll maintain that level of play the entire game. in his last England vs Netherlands Match Dawid Malan made 87 runs.Your go-to fantasy cricket app and fantasy sports app platform is Vision11. For fans of cricket, it has proven to be among the best fantasy sports app. You may make your ideal fantasy cricket teams with Vision11, choose genuine players from forthcoming games, and get points according to how well each player performs on the pitch.
Team Captain: Joss Buttler
Team Vice-Captain: Ben Stokes
Head Coach: Matthew Mott
Pakistan World Cup 2023 Team Overview
High-calibre cricket players have been produced in Pakistan, a nation with a rich cricketing heritage. In 1992, they became victorious from the ICC Cricket World Cup. Passion, erratic behaviour, and flair are hallmarks of their cricketing culture. A player of Babar Azam's caliber ordinarily anchors their batting order. in his last New Zealand vs Pakistan Match, they won from 21 runs by DLS method.
Team Captain: Babar Azam
Team Vice-Captain: Shadab Khan
Head Coach: Grant Bradburn
ICC Cricket World Cup 2023 England vs Pakistan Predictions by Vision11
Jos Buttler (C), James Vince, Phil Salt, Chris Woakes, Moeen Ali, Dawid Malan, Jason Roy, Sam Curran, Jofra Archer, Mark Wood, and Adil Rashid
Shadab Khan, Mohammad Nawaz, Hasan Ali, Fakhar Zaman, Imam ul-Haq, Babar Azam (C), Mohammad Rizwan (WK), Saud Shakeel, Iftikhar Ahmed, Shaheen Afridi, and Haris Rauf.
England vs Pakistan Team Tactics
England's batting lineup is one of the most formidable in the world. They will look to set the tone with aggressive openers, such as Jason Roy and Jonny Bairstow. Their strategy involves scoring freely in the Powerplay and putting pressure on the opposition early on. England boasts a strong middle order with players like Joe Root and Eoin Morgan. Their role is to anchor the innings and ensure that there is no collapse after a strong start. England's bowling attack features pace and swing bowlers like Jofra Archer and Chris Woakes. However, they will need to adapt their strategies depending on pitch conditions. On slower pitches, spinners like Adil Rashid will be crucial. England's fielding is top-notch, and they will look to create run-out opportunities and take stunning catches. Tight fielding is key to their strategy.
Pakistan's strategy will involve providing a solid start with their top-order batsmen like Babar Azam and Fakhar Zaman. They'll aim to see off the new ball and build a strong platform. Pakistan has a strong spin attack, led by Shadab Khan and Shaheen Afridi. They will look to exploit any weaknesses in England's middle order by extracting turns and variations. Pakistan's lower-middle order is known for its power-hitting capabilities. Players like Babar Azam and Shadab Khan can accelerate the scoring in the later stages of the innings. Pakistan will aim for disciplined and economical bowling to build pressure on England's batsmen and force mistakes.
Both teams will need to assess pitch conditions, weather, and their opponents' strengths and weaknesses on the day of the match. Adaptability will be key, as they may need to adjust their strategies during the game. England vs. Pakistan World Cup clash promises to be a thrilling battle of contrasting cricketing philosophies. Cricket fans around the world eagerly anticipate this encounter, and the team that executes their strategy more effectively on the day will likely emerge victorious. As we await this exciting showdown, one thing is certain: cricket enthusiasts will be treated to a spectacular display of skills, tactics, and sportsmanship as England and Pakistan go head-to-head in their pursuit of World Cup glory.
Name the Playing 11 of the Pakistan team for the World Cup 2023
Shadab Khan, Mohammad Nawaz, Hasan Ali, Fakhar Zaman, Imam ul-Haq, Babar Azam (C), Mohammad Rizwan (WK), Saud Shakeel, Iftikhar Ahmed, Shaheen Afridi, and Haris Rauf.
Who is the captain of the England team for the World Cup 2023?
Joss Butler is to lead team England for the 2023 World Cup
Where will the match be held between England and Pakistan for the 2023 World Cup?
At Eden Gardens, Kolkata the match will be held between England and Pakistan for the 2023 World Cup.