World Cup 2023 Semi Final 1 Predictions : India vs New Zealand, The Epic Battle for the Final Ticket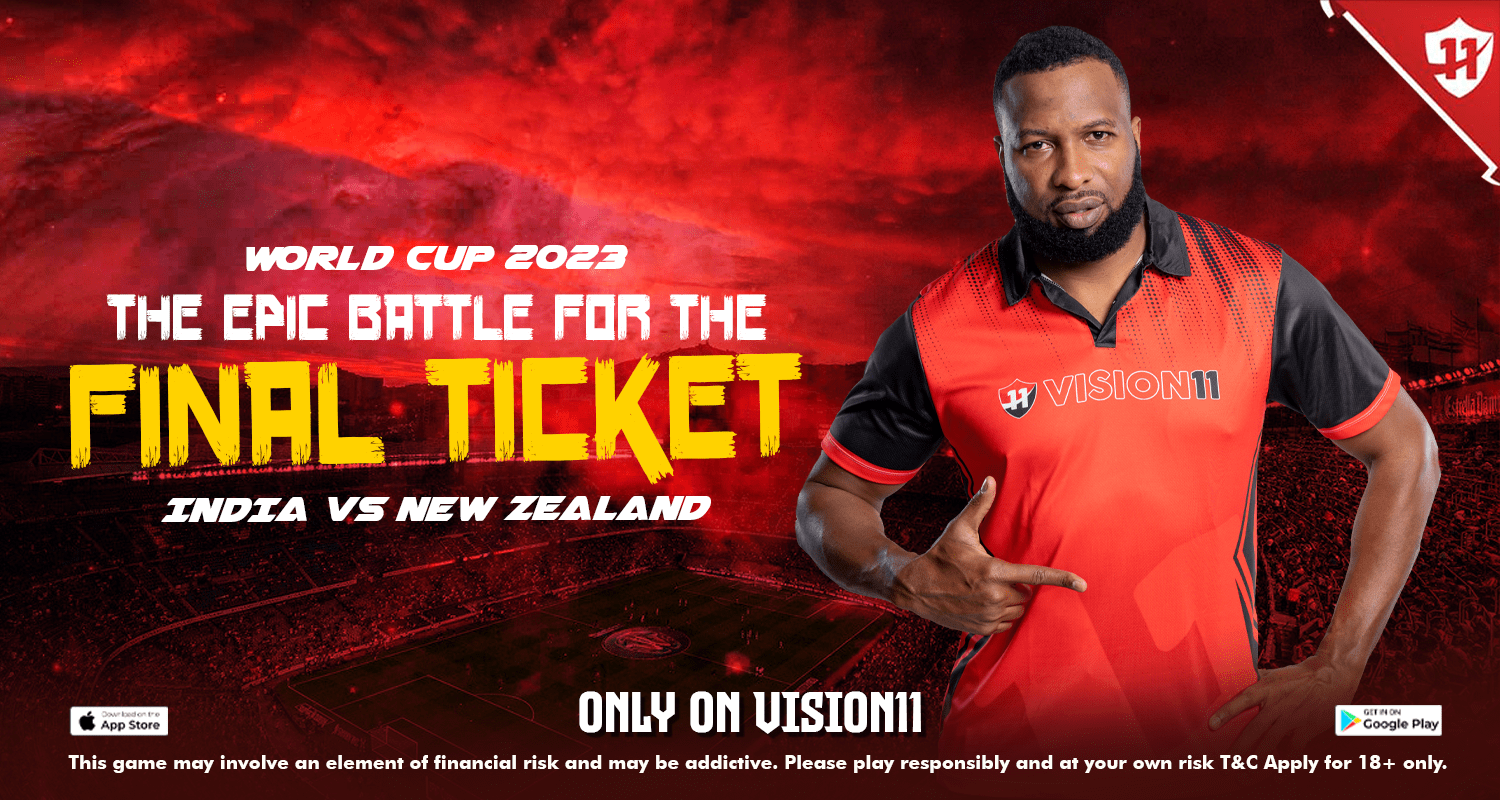 The cricket world is buzzing with anticipation as we inch closer to the much-anticipated
ICC Men's World Cup 2023 semifinal
between two cricketing giants India and New Zealand on November 15 at 2 p.m. at Wankhede Stadium. The stakes are high, and the pressure is intense as these teams clash for the ultimate ticket to the final.
Indian Team Spectacular Odyssey
India's journey to the semifinals has been spectacular, marked by stellar performances and moments that have etched themselves into cricketing folklore. The formidable batting of Virat Kohli and other batsmen has been the backbone of India's campaign, consistently delivering impactful performances when it matters the most. Complementing the batting prowess, the likes of Mohammed Shami and Mohammed Siraj have spearheaded a potent bowling attack, making India a well-rounded force to be reckoned with. The team's ability to adapt to varying match situations and the astute captaincy of Rohit Sharma have been key factors in their success so far.
New Zealand's Resilient Ascent
On the flip side, New Zealand's journey to the semifinals has been defined by resilience and a knack for thriving under pressure. As the team is led by the calm and composed Kane Williamson, the Kiwis have showcased a brand of cricket that is both strategic and adaptable. The contributions of Trent Boult with the ball and Daryl Mitchell with the bat have been pivotal, highlighting New Zealand's depth and balance. With a track record of delivering in crunch situations, New Zealand is poised to give India a formidable challenge. As they face the mighty Indian team, New Zealand brings a blend of skill and resilience to the semifinal battle.
India vs New Zealand World Cup 2023 Semi-Final Schedule
Date: November 15th, 2023
Day: Wednesday
Venue: Wankhede Stadium, Mumbai
Time: 2:00 PM
Pitch Report Of Wankhede Stadium
Mumbai's Wankhede Stadium, which hosts many yearly Indian Premier League, domestic, and international cricket matches, is predicted to hold its position as the nation's premier Indian cricket match venue in 2023. The red soil composition of Wankhede Stadium, which is known to favour batsmen, should give the hitters an advantage when the 2023 World Cup is played there. As is to be expected, batsmen will dominate and control the game throughout the Mumbai 2023 World Cup matches. Run chases should become much easier as the dew factor is expected to enter the picture later in the games, regardless of how effectively the other team bowls.
ODI Records at Wankhede Stadium
In 1987, Wankhede Stadium hosted its inaugural One Day International (ODI) event, which took place thirteen years after the first Test match. Mohammad Azharuddin scored 108 runs, an undefeated century, to give India a 10-run lead against Sri Lanka. India has won 10 of the 19 ODIs held at the location, while Australia has an incredible record of winning three of the four. The leader in runs scored, with 455 runs at an average of 41.36 in 11 games, is Sachin Tendulkar. The leading wicket-taker at this ground is Venkatesh Prasad, an Indian medium-pace bowler who has taken 15 wickets at an average of 14.86 in six matches. With 438 runs for four wickets against India in 2015, South Africa holds the record for the highest total in an innings. But South Africa won the game with a commanding 214 runs.
Total matches: 23
Matches won batting first: 11
Matches won bowling first: 12
India vs New Zealand World Cup 2023 Semi-Final Team Overview
India World Cup 2023 Team Overview
India will enter the field under the guidance of a well-trained group and give it everything they have because the World Cup is the only prize up for grabs. The BCCI claims that despite some players being left off the roster, others have made major contributions to the Indian team. India defeated Netherlands in the most recent match to claim the top spot in the points standings. where Rohit Sharma made 61 runs and Virat Kohali scored 51 runs. As per Vision 11, talents should always be possessed and guaranteed, but winnings are never guaranteed.
Team Captain: Rohit Sharma
Team Vice-Captain: Hardik Pandya
Head Coach: Rahul Dravid
New Zealand World Cup 2023 Team Overview
A well-known team in international cricket competitions, New Zealand is referred to as the "Black Caps." The fundamentals of their World Cup approach are adaptability and reliability. First of all, New Zealand had great ball control. Even though Matt Henry and Trent Boult were holding tight and continuously moving outside the outside edge.During their batting session, New Zealand overcame an early scare and won most recent Sri Lanka vs New Zealand match by 5 wickets.
Team Captain: Kane Williamson
Team Vice-Captain: Tom Latham
Head Coach: Gary Stead
ICC Cricket World Cup 2023 Semi-Final, India vs New Zealnad Predictions by Vision11
Rohit Sharma (c), Shubman Gill, Virat Kohli, Shreyas Iyer, KL Rahul (w), Mohammed Shami, Ravindra Jadeja, Suryakumar Yadav, Kuldeep Yadav, Jasprit Bumrah, and Mohammed Siraj
Kane Williamson (C), Devon Conway, Lockie Ferguson, Matt Henry, Tom Latham (wk), Jimmy Neesham, Glenn Phillips, Rachin Ravindra, Mitch Santner, Ish Sodhi, and Daryl Mitchell
The Road to the Semi-Finals
India's performance in the competition has been extraordinary. With a flawless group stage performance, they showcased their batting prowess, bowling precision, and unmatched team spirit. The top-order, led by cricket maestro Virat Kohli, is in sublime form, while the bowling attack, spearheaded by the lethal Mohammed Shami and Mohammed Siraj, has left opponents in awe.
On the other side, New Zealand has proven its mettle with consistent performances. The Black Caps, known for their tenacity, have navigated challenges with finesse. The experience of Kane Williamson at the helm and the all-round brilliance of players like Trent Boult and Rachin Ravindra have been instrumental in their success. As they face the mighty Indian team, New Zealand brings a blend of skill and resilience to the semifinal battle.
Head to Head Battle Between India vs New Zealand
In the ODI format, 62 matches have been played between India and New Zealand. While New Zealand has won 13 games, India has won 22 games. Both teams drew 27 of the games that they played.
The preferred platform for cricket and fantasy sports app is Vision11. For fans of cricket, it has become one of the best fantasy sports app. You can design the teams of your desires for the fantasy cricket app Vision11, choose actual players from scheduled games, and accrue points according to each player's output.
Total Matches Played: 62
Matches Won by India: 22
Matches New Zealand: 13
Matches End with Draw: 27
India and Zealand Team Tactics
India's batting lineup is very strong. Their approach frequently centers on a good opening duo, with players such as Rohit Sharma and Shubman Gill offering a solid base. As the middle order's rock, Virat Kohli is unmatched in his capacity to extend innings and switch up his strikes.
India makes use of players like Ravindra Jadeja and Kuldeep Yadav's spin skills when bowling. These spinners are skilled at controlling the ball while taking big wickets in the middle overs. The death rate in India has improved dramatically in the last several years. Yorkers and variations in the last overs are renowned for being bowled by players like Mohammed Siraj and Mohammed Shami.
New Zealand frequently takes advantage of favourable circumstances to capitalise on their skill in seam bowling. Players with dual-directional swinging ability, such as Mitchell Santner, can disrupt the opposition's batting order early on.
The middle order of New Zealand's batting lineup is stable, thanks to the presence of Kane Williamson. Players with explosive starting starts include Rachin Ravindra and Daryl Mitchell. One of New Zealand's advantages is their capacity for composure under duress, which makes them strong rivals in elimination games.
As the cricketing world holds its breath, the India vs. New Zealand semi-final promises to be a cricketing extravaganza. Brace yourselves for a rollercoaster of emotions, breathtaking moments, and, above all, a display of cricketing excellence. Who will emerge victorious and earn the right to compete for the coveted World Cup trophy? The answer lies on the cricket field, where every ball, every run, and every wicket will shape the destiny of these two cricketing powerhouses. Get ready for a semifinal showdown like no other!
Who are the key players for the semi-final match between India and New Zealand for the World Cup 2023?
Virat Kohli and Mohammed Shami from Team India and Rachin Ravindra and Trent Boult from the New Zealand team are the key players to watch in the semi-finals of Team India and Team New Zealand for the World Cup 2023.
Name the playing 11 of the Indian team for the Semi-Final World Cup 2023.
Rohit Sharma (c), Shubman Gill, Virat Kohli, Shreyas Iyer, KL Rahul (w), Mohammed Shami, Ravindra Jadeja, Suryakumar Yadav, Kuldeep Yadav, Jasprit Bumrah, and Mohammed Siraj
Where will the first semi-final match be held for the 2023 World Cup?
At Wankhede Stadium, the first semi-final match will be held for the 2023 World Cup.